I was born in London, England and grew up in the Essex countryside. I started my career as a dancer for stage and television in London, Monte Carlo, Italy, France and Las Vegas. Later, I branched out into other areas of entertainment both in front of and behind the scenes, appearing on the Benny Hill Show, film dubbing for Chinese movies in Hong Kong and as a children's theatrical agent in Sydney, Australia.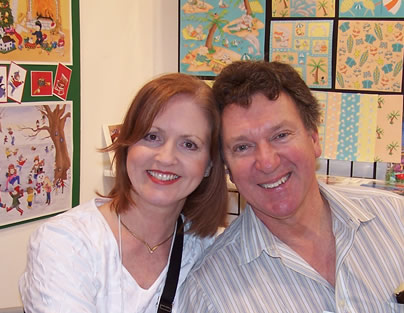 Throughout the years I continued to paint. My hobby turned into a profession when some my paintings were licensed as greeting cards and prints in Australia. This led me to design for other products including paper goods, fabrics, scrap booking, advent calendars and juvenile bedding. A few years ago one of my baby bedding designs won top place on a customer website survey.
     My particular interest is with the magical, make-believe world of children and creating floral watercolors. Inspiration comes from the children in my life and the 'colorful' people I meet.  I exhibit at various art shows, including Surtex and CHA. I work out of a studio in my home where I live with my husband in the beautiful area of Oxford, MD.
     Thank you with all my heart for taking an interest in my art. I hope it makes you smile because we all need a little more magic in our lives!